Los Viajeros is a non-profit
equestrian riding club for adults.
Our organization sponsors rides from March through November of each year. The club also fosters interest in trail riding and preservation of riding and mixed-use trails and facilities in the Bay Area.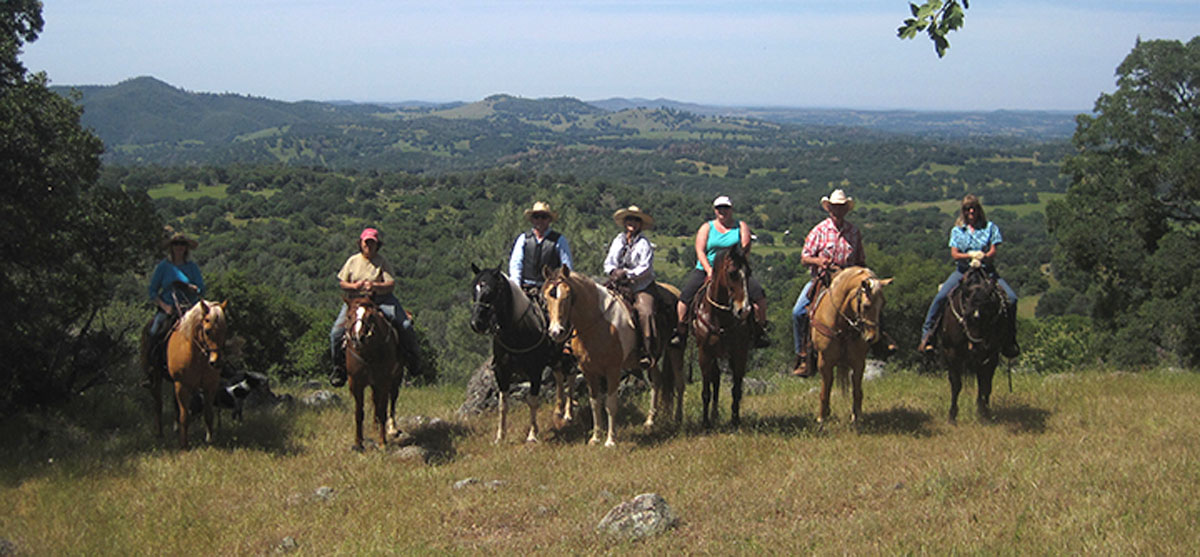 Approximately 12 rides are held every year. Any adult who leases or owns a well-mannered trail horse and has reasonable riding skills, can participate.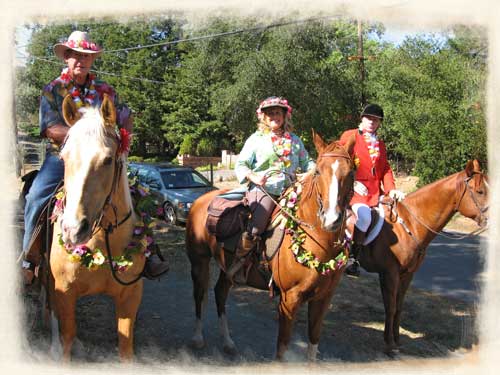 On most rides, the riders are divided into two or three groups, from slower to faster-paced groups. Refer to Los Viajeros Safety Rules and Trail Etiquette.
Some of the rides are one-day local rides, others involve significant drive time and overnight camping. All rides are catered, because of this, reservations are guaranteed even for no-shows. Cancellations are accepted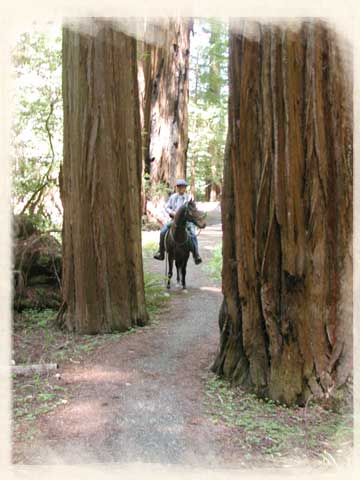 before the reservation cut-off date.
The club's most anticipated event every year is the 4-day ride. Los Viajeros four-day rides have been held from as far north as Humboldt State Park to as far south as White Oaks near Santa Barbara. Other popular spots have included Pt. Reyes, V6 Ranch in Parkfield, Euer Valley near Truckee, and Montesol in Sonoma County. As outdoor enthusiasts, we all know the real gold in California is its breadth of ecosystems. Four-day rides take Los Viajeros members from mountains
overlooking breathtaking vistas of distant green valleys to trails that spill out onto sandy beaches along the the Pacific Ocean.
But in the end, what really makes any Los Viajeros ride memorable, are the people. After each ride, members and guests gather for a relaxing meal and swap tales. Did we mention the rides are catered? From hot energy-boosting breakfasts to gourmet-quality dinners, it is impossible to go hungry on a Los Viajeros ride.
On the 4-day rides, regaling each other with the latest trail adventure is not the only entertainment. Music and playful competitions, like best decorated trailer tack rooms or best dressed horses, are often held during overnight camp trips. During the 4-day ride Los Viajeros delivers its own amateur stage group: The Fowl Players.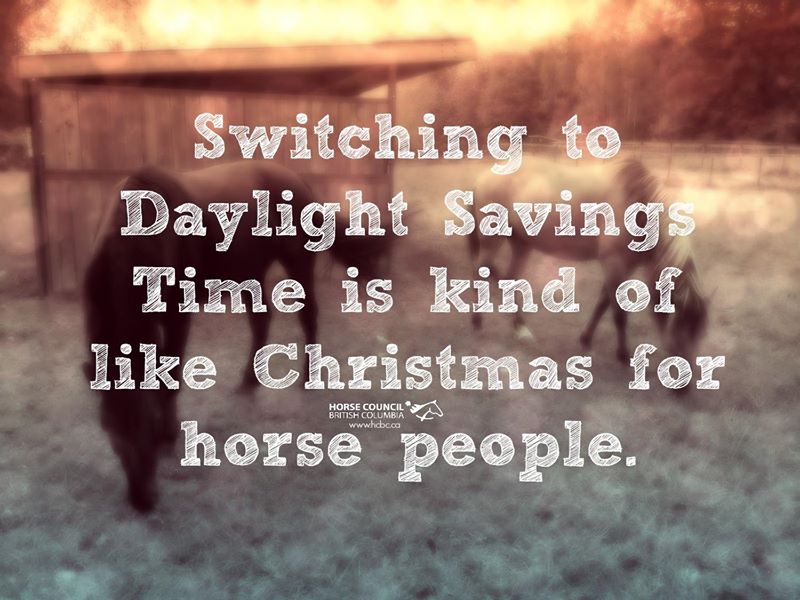 Director Joyce draws on the enthusiasm and sometimes questionable talent of guests and members, mixes with it all with big dose of creativity and humor to make the annual production a perennial favorite at the ride. Raffles and silent auctions that showcase an interesting array of items help fund future rides and activities.
Los Viajeros participates in activities that help support organizations like the National Center for Equine Facilitated Therapy and the Woodside Horse Owners Association. Los Viajeros is also a key supporter of the Jack Brook Horse Camp in Sam MacDonald Park.
As a group, we promote mixed-use and equestrian trails as well as equestrian campgrounds. We maintain trails and facilities, for the years from 1941-1953. not only through donations, but by getting our hands dirty clearing, trimming and repairing. We are strong advocates of safe and courteous trail use.
In addition to the rides Los Viajeros holds an annual Christmas gathering, a general meeting in January and an installation dinner/dance in February.